Your handset has multiple line keys which can be used as actual lines or speed-dial buttons with indicators. An internal speed-dial with indicator is called a BLF in the PBX world. Speed-dial keys can be internal or external numbers.
What is a BLF?
BLF or busy lamp fields show the status of other users phones (busy, ringing, available) connected to your phone system.  Extra keys you are not using can be assigned to be BLF keys. You can assign a workmate's extension to appear as a BLF on your phone – when their phone is in use / ringing you will be able to see this on your handset.
As the key is also a speed-dial, you may press the key to call your workmate.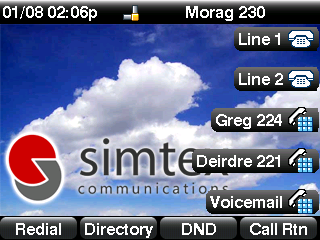 Example BLF – extension 224 and 221
How do I change my line keys?
At this stage Simtex does not have a customer facing web page available.  Please e-mail Simtex support with your request, for example:
My Extension: 204
Line Key 1 – Line 1
Line Key 2 – Line 2
Line Key 3 – BLF 205
Line Key 4 – BLF 206