My Account is used to make changes to the configuration of your Cloud PBX system.
You can also see your call history, divert calls, plus send SMS messages.
[toc]
Logging In
To access My Account, please visit: http://myaccount.simtex.com.au
Each Cloud PBX handset has an individual account number and PIN.  This account number is an 8-digit code beginning with 7.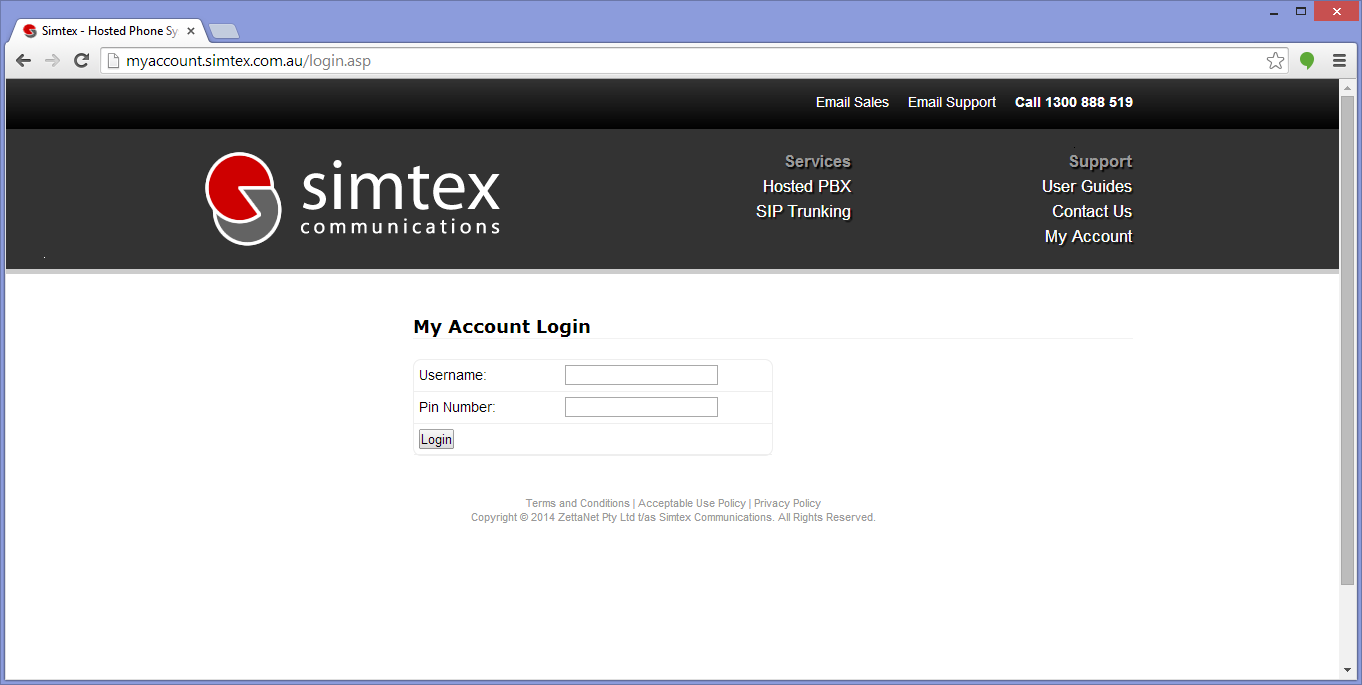 Block Caller ID / Silent Number
Simtex allows you to block your Caller ID number.  Outbound calls will then appear as anonymous or blocked.
To block for all calls:
1Click on Account details on the left hand menu
2Scroll down to Other Settings
3Tick Silent Number
4Click Update Account

Block on a call-by-call basis
Simply dial 1831 before the number you wish to call.  For example, 1831 9488 3344
Call History
The Call History page allows you to see calls made from your account in real time.  If you would like to view call history for a different time period, select the desired month / year then click Display Statement.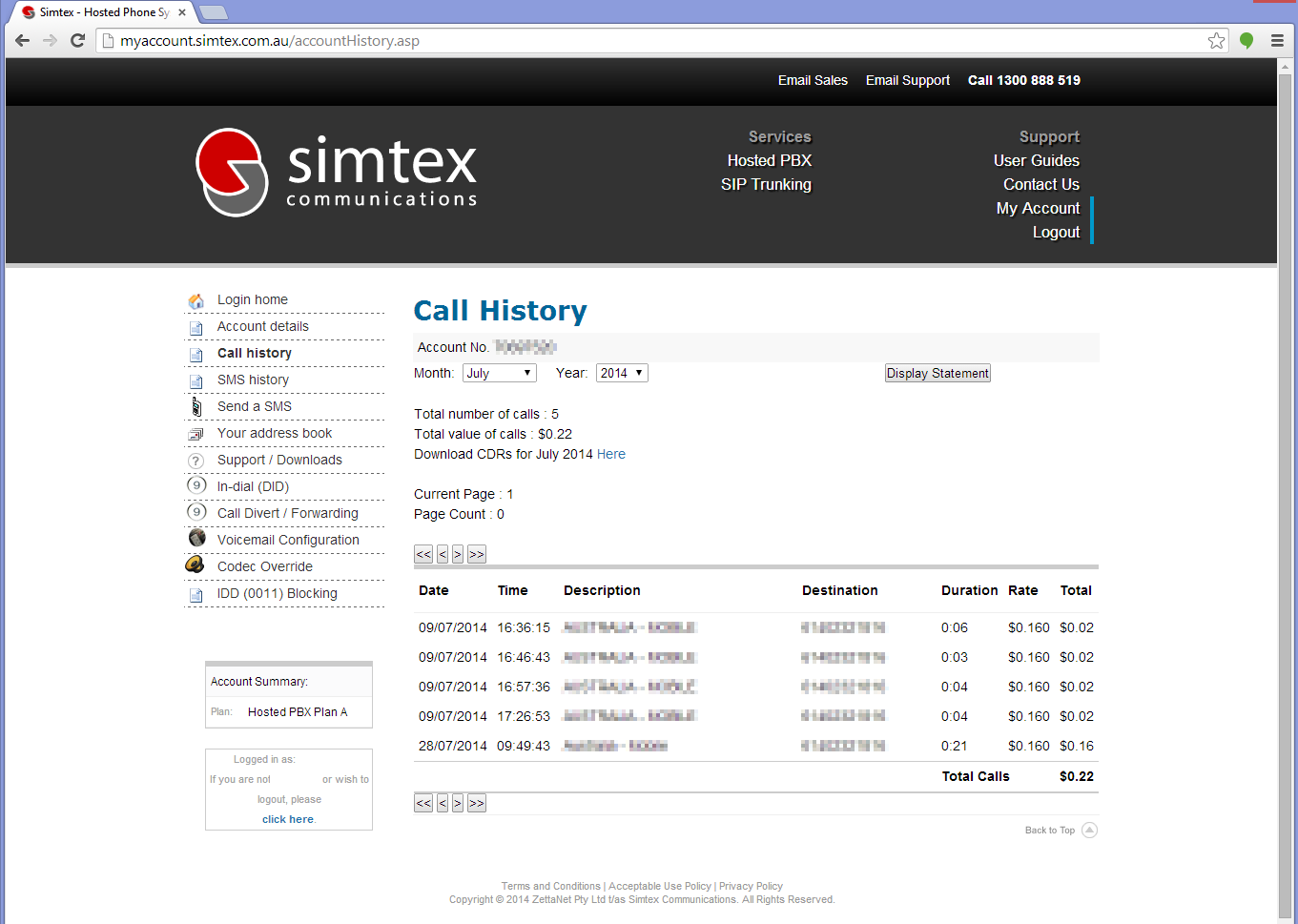 CSV files can also be downloaded for a particular month
Call-Forward and Divert
Simtex allows you to make diversion changes to your service live from My Account.
By default, your phone will ring for 30 seconds and then divert to voicemail.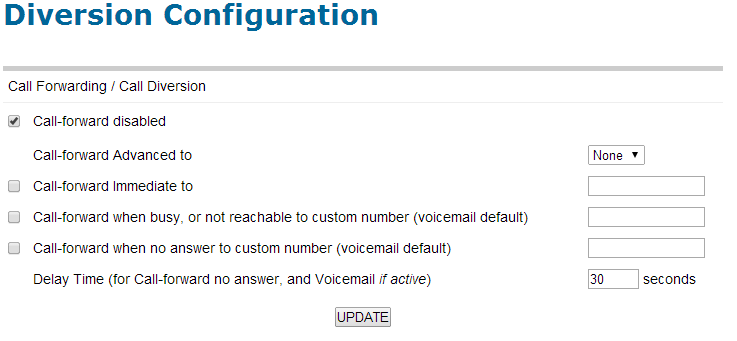 Call-Forward Immediate
Incoming calls will be forwarded directly to the number entered.  If the destination is busy, calls will be sent to voicemail (if active).
Call-Forward When Busy
Incoming calls will be forwarded to the number entered if your handset is engaged or offline/unreachable.  If call waiting is active, calls will not divert.
Calls will divert to voicemail (if active) if no number entered.
Call-Forward When No Answer
Incoming calls will be forwarded to the number entered if not answered within the specified delay time.
Calls will diver tot voicemail (if active) if no number entered.
Delay Time
Calls will ring for the designated time in seconds, before diverting to voicemail or Call-Forward No Answer number (if active)
Night Mode
If your company has a custom IVR or automated attendant with night mode you can manually enable/disable this within My Account.
Changes take place immediately.

Voicemail Configuration
This page handles voicemail for your handset.  By default, calls will divert to voicemail if not answered or if your phone is offline.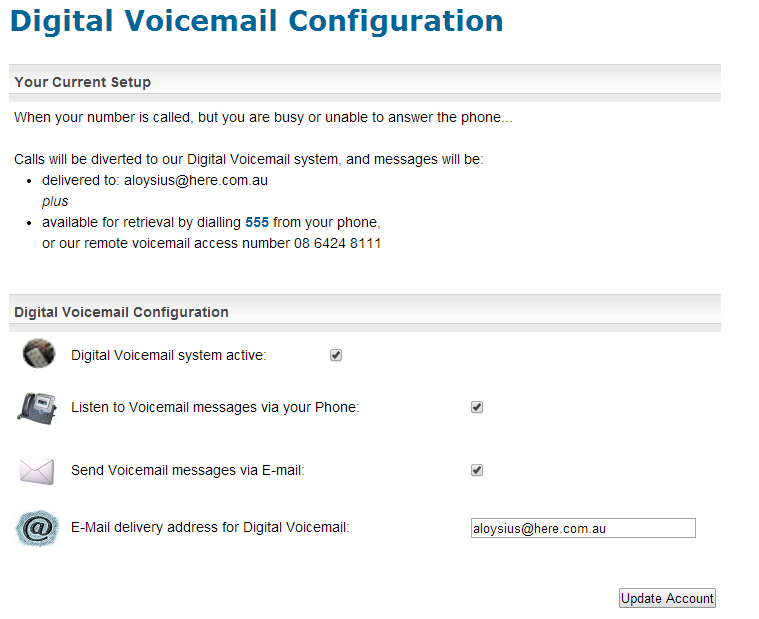 Listen to Voicemail messages via your phone
If active, messages will be kept on the server allowing you to listen to voicemail by dialing 555 from your phone.  Your handset message waiting indicator will also light up red.
Send Voicemail messages via E-Mail
Simtex will send voicemail messages to the designated e-mail address as a .wav file attachment.  To ensure voicemail messages do not fill up on the server, please turn off 'listen to voicemail messages via your phone'.
---
Sending SMS Messages
You can send single or bulk SMS messages from My Account.  Simtex also allows you to add your own mobile number to our system – ensuring messages you send from Simtex will appear to come from your mobile.
Adding your own mobile number / return mobile number
To have messages send "from" your mobile number, we need to verify you are the owner or have physical access to your mobile.
You can add multiple numbers if required.
1Click Send a SMS from the main menu
2Click add own number

3Click Add Number
4Enter your own mobile number then click Add

5You will then receive a special SMS containing an 8 character password
6Click activate

7Enter the password which was sent to your mobile phone, and click activate

8If successful, you will see the following activation message
9You can now send messages which will appear to come from your mobile phone
Single SMS
To send a message to a single recipient,
1Click Send a SMS from the main menu
2Enter your message
3Type in the desired destination number in the Send to field
4Press Send Message
Bulk SMS
In order to send messages to a list of numbers, you must first add entries to Your address book.  Numbers can be added in multiple groups as required.
1Click Your address book on the main menu
2Click Add Contact
3Enter name / mobile phone etc
4Select existing group or enter a New Group name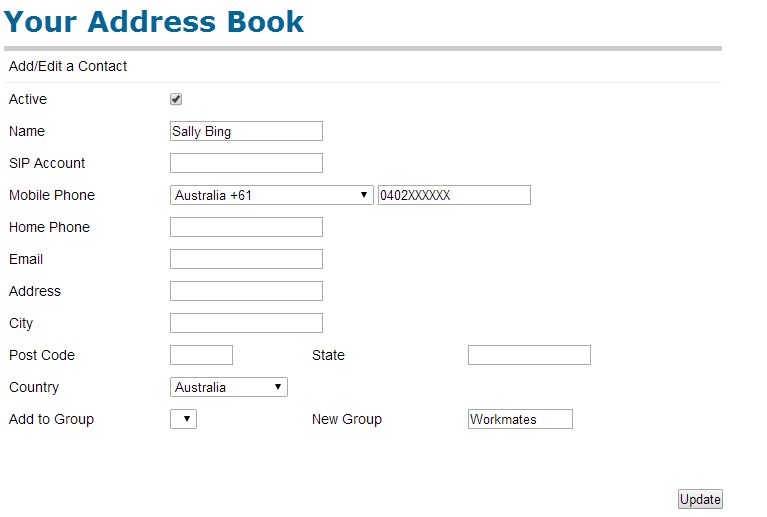 5Click Send a SMS on the main menu
6Enter your message, and pull down Send to (group) to select the desired group
7Click Send Message